Star Wars – Empire at War – FOC Alliance – Last Progress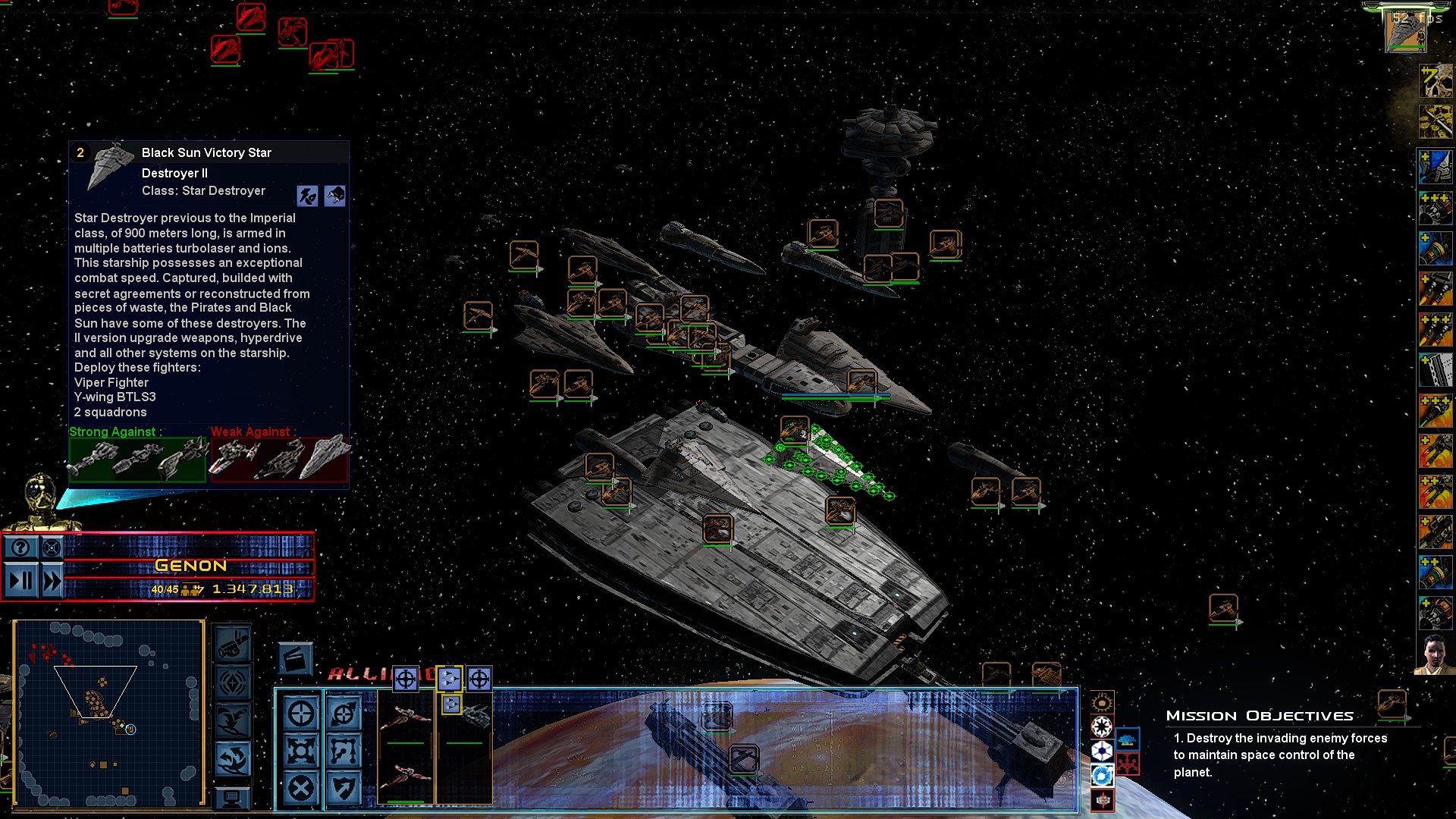 Probably you did note how I have not published nothing the past 5 days. I have been busy working with other computers. I needed to play some very old things which they do not run in Windows 10 for to take knowledge about other things for a secret proyect.
The point is how I had some bad problems with this old hardware and I lost several days from modding. Other point is how in Spain there was a small holiday, 4 days, call it long weekend.
Anyway, it was not as if I had not made anything new. I used my small time in front of this computer for to discover and fix other problems. The most important was a crash when the Imperial Redeye unit was involved in a battle and it was controlled by the AI. I do not know exactly because it happens but clearly the ability from Sensor Jamming must not be used in any unit big or perhaps it works only with the Black Sun. Anyway, I go to remove it from all the big units, it should not be used and it can be replaced by the Stealth by example.
The Redeye has a beautiful design, probably I will add the Stealth with some changes to this unit. At the same time, I should discover because it hides the model when the death animation happens. It is a very old problem.
About other work. I have continued adding animations from destroyed turrets. There are animation for engines and shields. The shield is correct, it is a piece from sphere flying around but the engines must be improved. It is a amount of pieces. But the different sizes from units and the big smoke probably hides it.
I have many good ideas for to show pieces of units. Definitely there is a fountain of gold with this type of work. But I want add turrets to the Assertor and several other units, in addition, I want finish the Mandator III. I was thinking now how it would be better if it would use red engines instead from the blue engines used with the Bellator.
For end my report. I must speak a bit about the close future, at few days because a circle is being closed. Probably you have thought always how I have not worked too much with the First Order/Resistance even if I have most of their units. The main point was how it was trilogy with a very hidden story. The addition from a exclusive GC for them without to know what was the complete story was not a good point for me. When The Rise of Skywalker be released, probably I will be able to add a exclusive GC with units and heroes from these sub-factions. For me the Resistance/First Order are sub-factions, a rename from the classic factions, just it, I do not go to add special factions only for them because it would make my work worse and more difficult.
Well, this is all by the moment.