Star Wars Empire at War – FOC Alliance – Last small updates
These week I have updated the mod several times with new improves and fixes.
This as a new Mon Calamari ground map fixing the problems conquering.
And the same problem fixed at Elom and Narshadda.
How the reinforces from the enemy are spawn was another problem. Sometimes, the AI attacks with many class fleets and it can end in very big and long battles. I have added a tweak avoiding it a bit. The battle from the video could be much bigger than it was. 😛
Some people will like this and other probably no. Even sometimes you will like it and others no. But I have thought about it a lot. Previosly the AI only builded one or two SSD and other big units, after you destroyed them, you did not see them more in battle and it could be good and bad. Bad because sometimes I missed them in the battle.
Now the AI can build at least one of them at the sametime. For good and bad, it is better than never. Probably I can try improve it a bit increasing the amount of credits from the units builded by the AI but anyway the AI goes to build them a lot more. It is the unique way where you can launch to the battle your SSD against the SSD from the AI and get a beautiful battle more of one time. We will see how it works. 😎
Other improves were from the Mini Death Stars super laser effect firing.
Finally I changed the way from be showed the skirmiss maps, more clear water, you must use the customized maps. Now all the new maps can be found.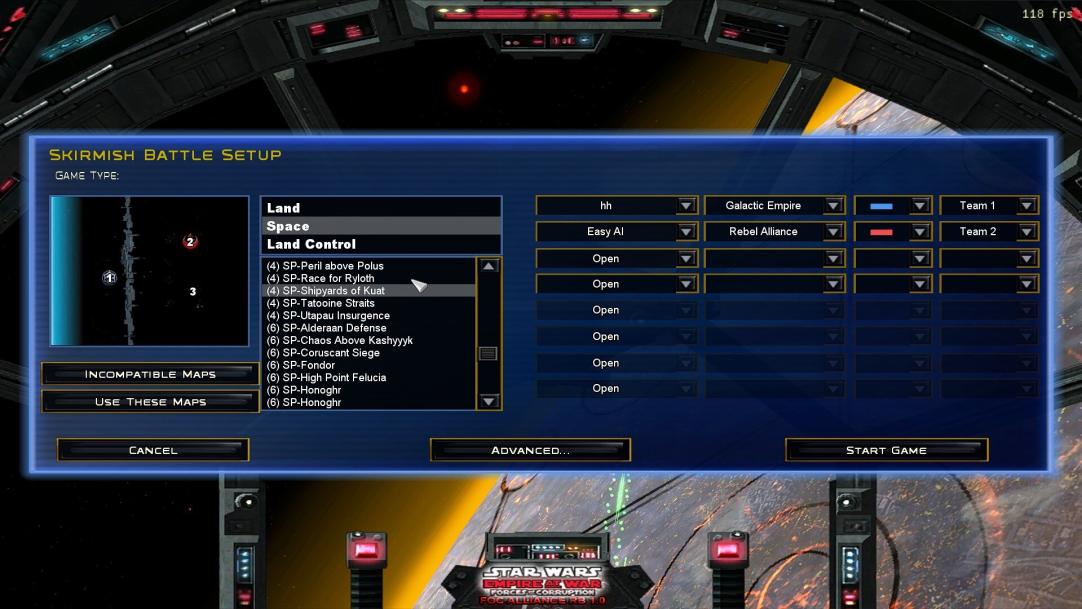 At Multiplayer I added two Total War GCs and I made other small tweaks. The single player version from Total War is a bit improved. These GCs from singleplayer will receive a much better update with the big update adding several features making the game more difficult when you have conquered most of the galaxy. 😉